CKO puts vehicle safety and savings first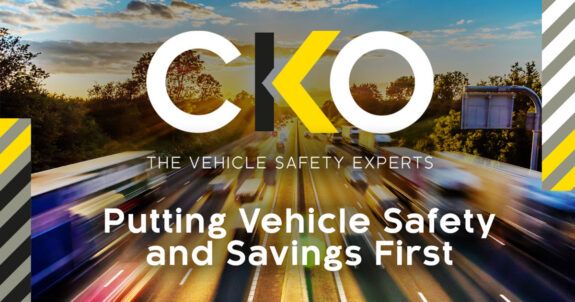 The pandemic may have hit industry hard, but it has also shone a light on the need to keep things moving during periods of instability. If you operate a fleet, whether large or small, you know that prioritising safety as well as efficiency helps you sail through the good times and keeps you aloft during the bad.
Vehicle safety specialists CKO has been helping businesses improve fleet safety and efficiency for over 30 years now and has seen demand grow recently.
"Time became a premium for all our customers as soon as lockdown hit," says CKO Sales and Operations manager, Nick Turner. "Whether it was the emergency services dependent on a working fleet to keep the country safe, or haulage companies satisfying the surge in demand for deliveries, they knew that unscheduled time off road could be potentially disastrous."
Technology has vastly improved vehicle reliability over recent years. Everything from onboard cameras to telematics systems and sensors have played their part in reducing accidents and the need for time-consuming (and money-consuming) repairs. Yet many companies have considered investment in this technology as a nice-to-have. Now it is an essential, especially as disruption is likely to continue, with Covid-19 predicted to stay with us for some time and transition to the UKs full exit from the European Union on the horizon.
"All fleets are different, and all companies have a variety of needs at any one time," says Nick. "That's why we always discuss with our customers exactly what they require first, then tailor the solution so that it totally fits that need."
Sometimes, this means installing existing equipment that fits the bill or suggesting an alternative that will better serve the customer. Other times, products don't exactly meet the criteria so need to be modified. Product managers at CKO are responsible for sourcing products but will also advise on a product tweak if needed.
An example of modification in action is the development of a Digital Video Recording system (DVR) that, when it arrives direct from the manufacturer, is only compatible with one specific type of in-vehicle camera. This means customers who have different camera types installed in their vehicles have to fork out for replacements to successfully complete the upgrade. However, the CKO team were able to modify the DVR so that it works with a range of camera specifications, saving the customer money and time.
A driver's-eye view from any device
One of CKOs signature products is Live View – a secure, real-time video streaming and GPS tracking system. The system operates across several networks and offers up to 16 separate streams simultaneously.
"Imagine one of your vehicles gets into an accident," explains Nick. "Your team will be alerted straight away, so they can make sure all the video footage is captured and stored immediately, rather than having to wait until after the event and spend hours finding the relevant material."
CKO engineers can install an incident button that the driver activates as soon as an incident has occurred. This ensures HQ are alerted and an accident report is filed immediately, allowing the driver to focus on dealing with the aftermath of the accident, while HQ can arrange for repairs to be carried out on site if possible.
"Live View saves valuable time and, in some cases, helps get vehicles that aren't badly damaged back on the road," says Nick. "It can even reduce insurance premiums. The downside to having a vehicle covered in branded livery, for example, makes it more of a target for spurious claims. Because we can see clearly, immediately and remotely what, if anything, has occurred, Live View makes the management of a claim faster, especially where the lorry driver is blamed for an accident regardless of fault."
Indeed, the larger the business, the more prone it is to be targeted as an easy cash grab with a fabricated event. This can be a costly challenge for companies, especially those that self-insure their fleet.
Live View has other benefits, too. It helps engineers identify faults and check safety equipment in the vehicle remotely, saving time on in-person visits. Fleet managers can also keep an eye on their drivers to make sure they are where they are supposed to be and offer assistance if the driver encounters any problems during their run.
It also has its quirky uses. When a vehicle is transporting dogs to quarantine, anxious owners can access footage of their pets at any time, giving them peace of mind that their pooches are safe and being looked after.
When it comes to vehicle safety, it's good to know that the advice you receive, and the resulting installation is reliable and trustworthy. We all know there are cowboys out there that offer a cheap service and try to cut corners, but that can be disastrous. Much better to work with companies that have been around a while and take pride in the quality of service.
To find out more about how CKO can improve the safety of your fleet vehicles and its drivers download the latest product brochure.