The CKO Live view system offers secure multi-network real-time video-stream and GPS tracking for your single or multiple vehicle fleet. With our system any user can view up to 16 separate streams, at any one time, with two users you can double that to 32.
Using the registration number as the default code and the depot to allocate the group it is simple to classify a fleet of vehicles and enable different users' permissions to access sets of information.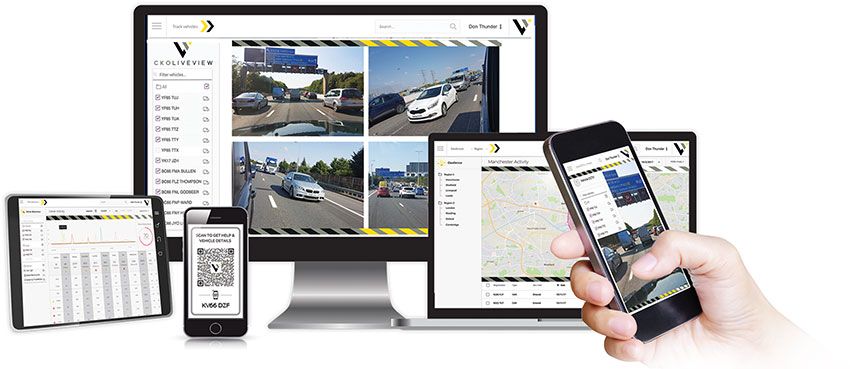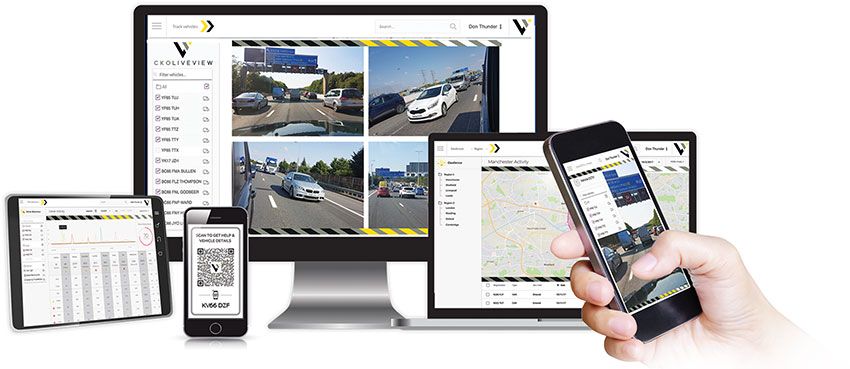 Introduction
Live View is a 4G based service offered by CKO enabling customers to view individual vehicles and whole fleets with real-time and historical footage. We offer monthly and annual payment terms on a 12-month contract for which we provide:
PC software
iOS and Android phone software
Device SIM
Data server
Customised email alerts & notifications
Telephone and remote access support
UK networks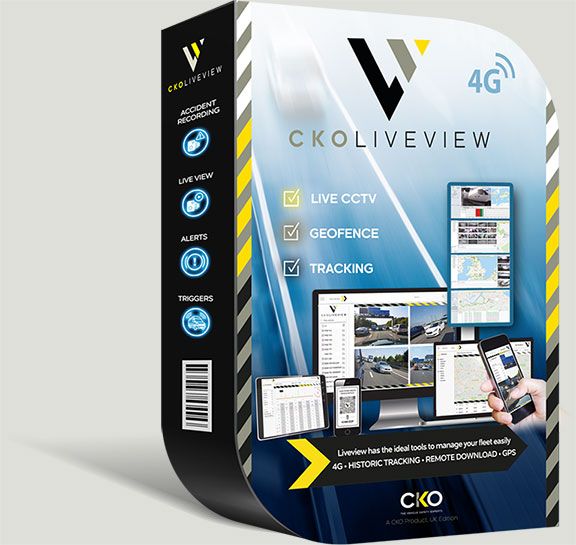 Functionality
Our system offers market-leading functionality:
Vehicle tracking by GPS – current location and speed of the vehicle can be seen
Alerts regarding faults such as geo-fencing breaches, failing hardware, switch to SD card recording, video loss on channel e.g faulty camera
Remote download footage can be viewed through mobile phone or PC
Historical footage – downloadable footage for the last month
Change settings remotely – settings such as camera resolution, date, time and recording settings can be changed remotely. Software updates can also be sent remotely.
Multiple vehicle viewing – the interface can show 32 live and recorded streams at one time, meaning that many fleets can be managed on a single interface.
SOS button – The introduction of our SOS button on the DVR means if an incident occurs the driver can push it and central office will be immediately notified and able to investigate the issue. As well as time and date, a video clip of between 1 to 2 minutes can be saved on the server from when the alarm is pushed on the device.
Geofencing – multiple fences can be applied and notifications will alert the user when a vehicle enters or leaves those zones.

Not only does this provide an anti-theft security feature, businesses can also use geofencing to monitor employees in the field, automate time cards and keep track of individual vehicles over particular time periods.
Without Live-view, if your vehicle was involved in an incident, you would only hear about what's happened once your driver gets back and reported it. With our live-view system you will receive notifications, tailored to your own specification.

In case of an incident, an alarm will be displayed on the live-view page or direct to your mobile phone.

It does not interrupt the user view, but like an exception report, it can prompt action by alerting users that action is required.
Email notification
We recommend that email alerts are sent to a dedicated person in your company. In the event of equipment failure this provides you with a fail-safe beyond the driver's daily walk-around check. Under FORS Standard v5, daily checks of electronic safety is now compulsory. In the event of DVR video loss or hard drive failure an email alert can be sent to those who need to know within your organisation.
After understanding your needs, and with your permission, email alerts can be set up to multiple email addresses per vehicle or per group of vehicles. Custom input alarms can also be set to report by email at certain times or when an SOS button is press. As part of the initial set up, we can talk through your business needs and customise the settings to get the most out of our Live View system.
Historical tracking
The Real-time vehicle locator can be expanded to show single or multiple vehicle locations. If a vehicle is offline, the last location where it was connected will be displayed.

The 'Track' tab provides the historic location, speed and DVR status. Usefully, it can map historic route showing where the vehicle travelled in 30 second intervals. It is possible to search this function by time and date. The information is stored on our dedicated secure server meaning that vehicles that are not online can also be checked. In terms of vehicle safety and security this is an added bonus of the Live View system and when added to the 'status' of the DVR, can help highlight issues of suspected device tampering or fuel theft.
Remote download and historic viewing
Our standard tariff comes with a fair-use cap, but additional data can be purchased in bundles. Historic recordings can be remotely downloaded or streamed online by pinpointing the desired time and date. This allows the user to act quickly in response to incident reports. The file is saved in several ways, on the local device and on our server. Single or multiple channels can be downloaded and saved in a secure format, only playable on our local PC software where it can be converted to AVI if required.

Photos can also be viewed using the Record tab, the photos are snapshots that can be linked to the alarms and other custom settings from the server side. The photos are saved to our dedicated secure server.

Alarm inputs can be linked to different events, e.g the rear door opening for a delivery. This type of setting does require additional wiring and configuration is required, but greatly enhances the functions available and can be tailored for the specific needs of the business.
Phone app
The phone app provides the most basic information compared to the feature-packed desktop version. However, for quick and easy reference, the phone app allows users to check if vehicles are online, view the cameras in real time and see their current or last location.
Changing DVR settings
Our Live View desktop application allows DVR configuration settings to be changed. Settings, like alarm triggers, camera types and many others can be altered without having to be with the vehicle. Current setting can also be displayed. Making changes to settings after installation may be advantageous to tweak the systems usability or when new features become available. The DVR must be connected to Live View to access this function. User access control levels can be set so that settings can only be altered by those with the necessary permissions, securing alterations and ensuring consistency across the fleet.