We have carefully curated our products to build complete solutions for a range of vehicle types, giving you all the equipment you need to keep your vehicle, driver, and other road users safe. Invest in the clear observation of your blind spots and the capture of critical incident video footage. Our experienced Sales team are on hand to tailor our solutions to meet your needs, and the requirements of your customers.
Van Solutions range
Fully equip your vans with our complete range of vehicle safety products. CKO's solution greatly improves the safety of your workers, prevents collisions, offers evidence to support or rebuff incident claims, and allows you to monitor driver behaviour. Our range is suitable for all vehicle types.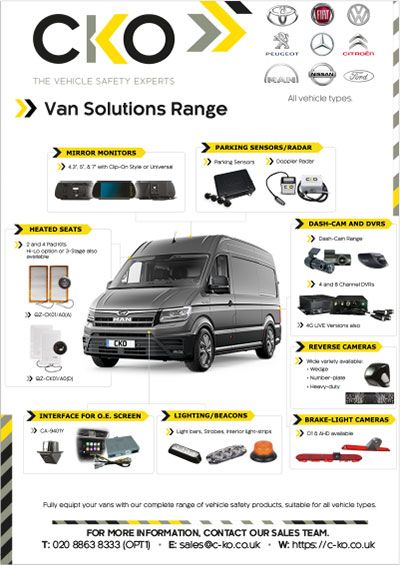 Motohome Solutions range
Ensure that your leisure vehicle is ready for your next great adventure. CKO provide a complete solution to allow you to manoeuvre and reverse your motorhome with ease. Our products offer clear vision of the rear of your vehicle, with sensor systems to ensure that you gauge your manoeuvres correctly.