The Direct Vision Standard (DVS) is the first legislation of its kind. Since October 2020, all goods vehicles over 12 tonnes require a permit to drive into Greater London (including vehicles from outside of the UK). Enforced by Transport for London (TfL), the legislation is based on a 'star rating', indicating how much a driver can see from the cab in relation to other road users. The vehicle manufacturer will issue a star rating for your vehicle. This rating (0-5) is based on how the vehicle left the production line, and will not consider any aftermarket safety systems that have been fitted. By 2024, the DVS minimum star requirements will increase to three stars.
If your HGV is rated zero stars, you will need to make your vehicle safer by fitting it with safe system improvements. To apply for a permit as a zero star rated vehicle, you need to fit your vehicle with all the safety equipment listed below.
To improve indirect vision, and help drivers see near the vehicle, you need:
Class V and VI mirrors
A fully operational camera monitoring system
A sensor system with driver alerts
To warn road users of intended manoeuvres you need:
An audible vehicle manoeuvring warning for left turns (or right turns if the vehicle is left-hand drive)
Warning signage
To minimise the physical impact of a hazard: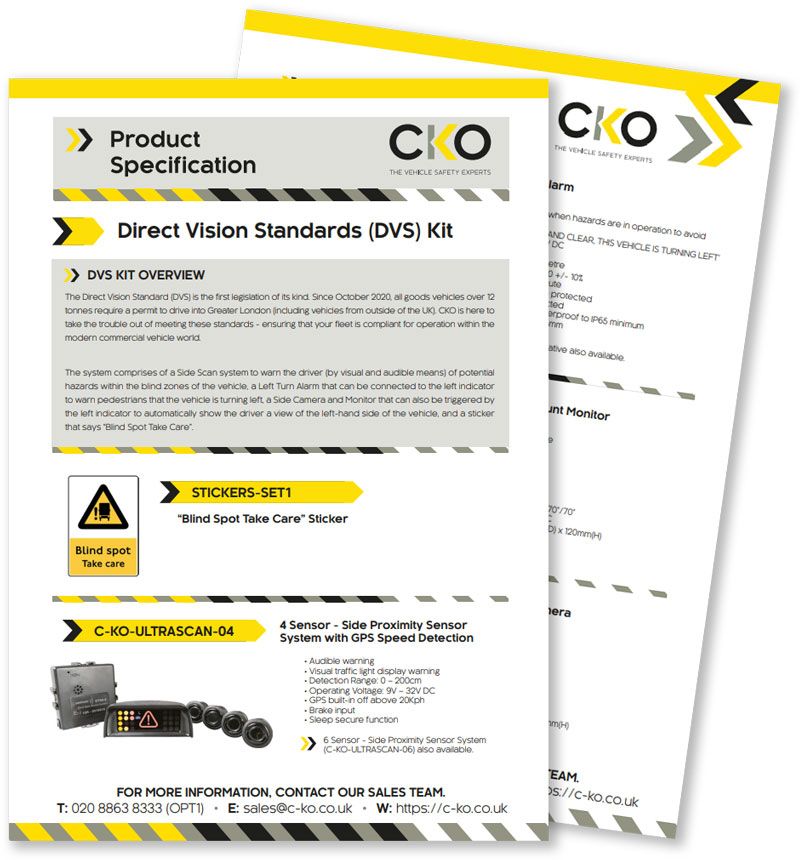 Why Compliance matters
The level of public scrutiny that has come to focus on the commercial vehicle sector in the last five years has resulted in a fundamental shift. It is now a commercial necessity for Fleet Operators to invest in safety equipment, which will enable them to continue to gain access to construction sites and win contracts on infrastructure projects (such as Crossrail and HS2). Soon, it will be impossible to operate without being able to demonstrate compliance with established standards. With over 30 years' experience, CKO is here to take the trouble out of meeting these standards – ensuring that your fleet is compliant for operation within the modern commercial vehicle world.