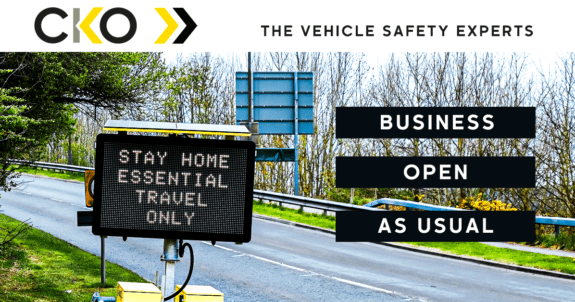 As once again we head into a national lockdown period CKO would like to reassure all our customers, colleagues and consumers that the measures already in place mean that there should be no change or disruption for any of our valued customers.
I can confirm our dedicated sales and product support team are available as normal 'right now' to take your orders.

Although there is nothing usual about the situation we all currently face yet again, CKO will continue to operate business as usual. With all our new precautions in place to support this, ensuring that service to our customers is maintained throughout this time. Allowing us to keep supporting our customers with our full range of products. You can trust and rely on your "Vehicle Safety Experts".
| | | |
| --- | --- | --- |
| | Please contact our sales team at CKO who will provide you with a personal and professional service to meet your specific requirements. | |
Inevitably there is going to be a real-time surge demand for stock very soon as the restrictions on movements are lifted within the next few weeks. To ensure that our products are available to you personally, products can and will be provisioned and ring fenced for you in advance of this situation occurring.

Placing orders now will create more certainty of supply for you, your business and your customers also.
The CKO Live view system offers secure multi-network real-time video-stream and GPS tracking for your single or multiple vehicle fleet. With our system any user can view up to 16 separate streams, at any one time, with two users you can double that to 32.

Using the registration number as the default code and the depot to allocate the group it is simple to classify a fleet of vehicles and enable different users' permissions to access sets of information.
| | | |
| --- | --- | --- |
| | Live View is a 4G based service offered by CKO enabling customers to view individual vehicles and whole fleets with real-time and historical footage. We offer monthly and annual payment terms on a 12-month contract for which we provide: | |
What Next?
To discuss further please call our specialist sales team on 020 8863 8333 (OPT1) or email sales@c-ko.co.uk
You can find out more about the products & services available by viewing the website or contacting a member of the team.
The Hawthorn Centre, Elmgrove Rd, Harrow HA1 2RF
You are receiving this email because you are either a customer of CKO or have expressed an interest in our products/services, If you prefer not to receive emails from us regarding marketing then please UNSUBSCRIBE.
Please find our Privacy Policy here.